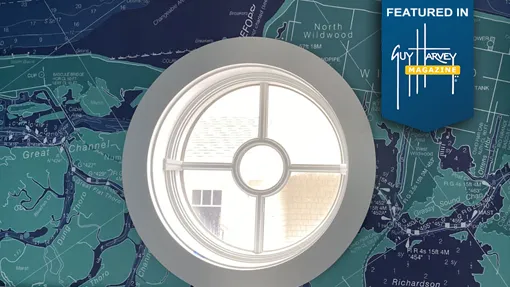 Nautical Chart Wallpaper
You will see our nautical map wallpaper all across the country from Restaurants and Hotels to the Smithsonian and your neighbors homes, we have covered it all. Scroll Down to View our Gallery of Completed Projects.
Nautical Chart Wallpaper
The Original Custom Nautical Chart Wallpaper.
Design to Printing, all done in-house since 1999.
Nautical Chart Wallpaper
Any nautical chart or map can be turned into nautical chart wallpaper! The nautical chart wallpaper can be cropped to contain areas of specific interest to you. Just let us know your location in the form below. Choose one of our existing color palettes for your project, or choose any 4 custom colors you prefer! Custom colors are available for any nautical chart wallpaper project at no additional cost, so you can design the project to match your decor. Look through the color options using the links below, give yourself some time for this one... Wallpaper can also be printed in the standard chart colors. We have 30 years experience in large scale output, our wallpaper output is the highest quality in the industry. When your artwork is created we take great care in setting it up to minimize any waste caused by odd angles and unique wall layouts which in turn lowers your total project cost.
We can match paint colors by selecting color using Pantone Spot Color Ink on Coated Paper, PantoneC. That said, the best course of action is to always select your paint colors after your wallpaper project has been delivered. It is much easier to match your paint swatches to the printed wallpaper in your home or office than it is to try to pick out the wallpaper colors viewing a monitor and trying to match a paint swatch in your hand. All monitors will show colors slightly differently. Many people take a scrap of the wallpaper that is trimmed off during installation to their paint store to be scanned, ensuring a perfect match. If you are using a Pantone swatch book to select color use PantoneC.
Once you place your order we will began scanning your chart to create your nautical chart wallpaper. You will receive 2 screen proofs for approval, screen proofs are images of your project that are emailed to you. Your layout screen proof includes the specific dimensions you provide for your project, this screen proof also shows the bleed or "extra" wallpaper that is included on the sides and top and bottom of every project-wiggle room! Finished crop areas on wallpaper may vary slightly from the proof. Your other screen proof is a full size high resolution color & content screen proof using your colors, set up at the full size of your project. This screen proof will be sent using www.wetransfer.com which is a free file transfer site. Both screen proofs require your approval prior to proceeding to production.
After ordering you will have an option to include a physical printed proof (strike off) or not. If a printed proof is ordered once we have your approval on both screen proofs we will create a physical printed proof for your approval. This will be shipped to you using UPS ground shipping. The print proof will need to be signed anywhere on the back and returned back to us for production. This eliminates any surprises when unpacking your new wallpaper. The wallpaper is installed using high quality wallpaper paste, it is installed like any othe vinyl wallpaper, there are no special instructions. All aspects of your project are done 100% in-house from design to printing and finishing.
Nautical Chart Wallpaper projects take about 12 days from start to finish if both screen proofs are approved the same day they are received, and the print proof is shipped back to us the same day it is received. Most of this time is consumed by UPS ground shipping. We can always expedite shipping if needed. If additional color edits are requested after an order is placed and prior to us sending your screen proofs for approval, we will provide up to five color group edits. Additional print proofs are $100.00 per set. Two new color screen proofs are included with each additional print proof order. In the event of order cancellation, your order will be fully refunded less a $200.00 print proofing fee, if we have already print print proofed your project.
Your wallpaper project wil be delivered ready to be installed by any professional wallpaper installer. Simply "Google" wallpaper installers or click the link below.
Please request a FREE custom layout and quote using the link below. You will receive a custom layout & quote for your project right away!
Nautical Map Wallpaper